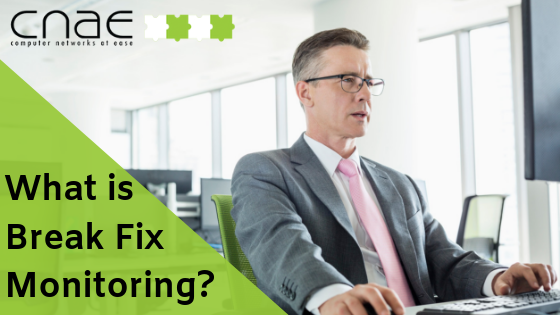 So why would I choose Break Fix over a managed IT Service?
You may already have an onsite IT staff member to assist you, your onsite person may be sick, absent, or transitioning to a new job. It is these times that a Break Fix solution may work better for you.
So how would break fix work for my business?
With your approval we can install an agent program on your computer/s and configure it to send to you, us, or both, system alerts based around agreed thresholds. These thresholds will depend on your needs, it may be for virus monitoring, threat management or back up. When alerts are received we can then agree on a remedy and action accordingly. You are paying for what you need at the time rather than being fully managed.
What makes CNAE's Break Fix Monitoring different to others?
CNAE have now added Proactive Monitoring to all their Break Fix clients. We monitor our client's systems via the CNAE Health Monitoring server and if a problem with the system is detected the client is notified by email. The client can then make a decision whether they want CNAE to fix the problem for them or not. This proactive model is proving to be a real game changer.
What if I wanted my monitoring to be more preventative?
Another consideration could be CNAE's Preventative Maintenance Agreement.  Preventative Maintenance clients are like Break Fix clients except there are a set amount of hours allocated and paid for each month to carry out a set list of maintenance tasks. This monthly maintenance keeps client systems up-to-date and healthy. Preventative Maintenance is proven to reduce overall support costs by having healthy up-to-date systems.
Like Break Fix clients, any issues that arise are fixed and billed.
Ultimately there are many factors to consider when choosing what is right for you but CNAE can help you work through that process, so you can get the right answer for you and your business and you are only paying for what you need.
If you are interested in learning more about Break Fix Monitoring please call the CNAE team on (07) 5436 9777